The University of Illinois at Chicago – Tips for International Students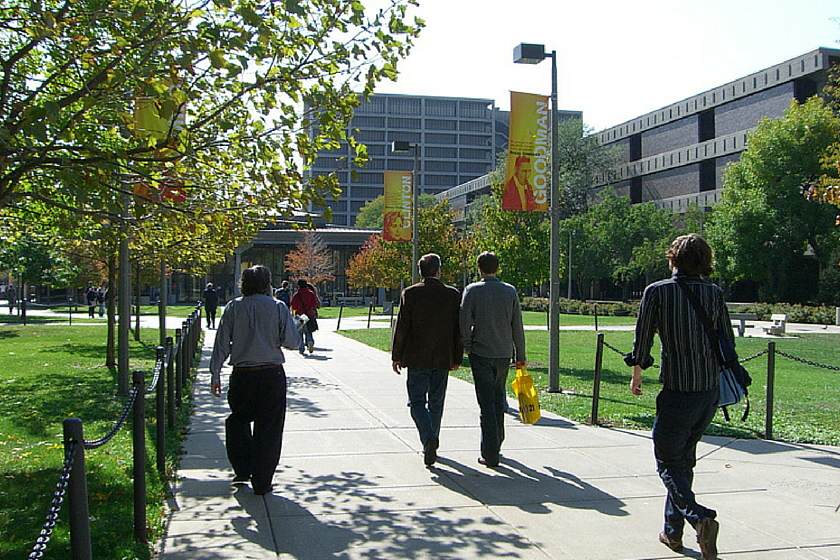 With 15 colleges, 28,000 students, a hospital, and health sciences system, the University of Illinois at Chicago (UIC) is a really impressive state-funded public research university. UIC operates the largest medical school in the US, educating the majority of doctors, nurses, dentists, and pharmacists in the country.
The student body is diverse and sport is a huge part of the university, with 20 men and women's Division 1 sports. The research university receives billions in Federal funding; for example, in 2014, the university had a $2 billion operating budget.
If you go to the University of Illinois at Chicago, you'll get to experience all the delights the windy city has to offer.
Accommodation options
1. Living on-campus
If you live on campus in one of the residence halls you'll be minutes from lectures, student centers and recreation halls. The university also offers special interest living where students with shared interests, both academic and non-academic, can live together.
Each special interest area has a peer-mentor to guide students in their life and career goals. While living on campus, you get free laundry facilities, discount cinema tickets, 24 hours security, study rooms, and lounges for socializing.
 2. Off-campus housing
You might find it cheaper to live off-campus and share accommodation with roommates. UIC has an off-campus housing directory where you can search for rentals in one of the residential neighborhoods nearby.
The Chicago metropolitan area is well served by public transport so you'll have no trouble getting to campus easily. Renting an apartment will give you more freedom and the chance to immerse yourself in the city's culture.
3. Homestay
A homestay provides a unique opportunity to live with an American family near to the university. If you're not a native English speaker, this is a good way to brush up on your language skills and learn about American culture up close. The host families will provide you with a private room, bathroom, and meals for a monthly fee. Search for Chicago homestays here.
Getting around
1. Intercampus Bus
The intercampus bus runs every day and makes it really easy to get to and from the east to the west side of the campus. Intercampus buses are accessible and paratransit service options are also available seven days a week.
At night, when the intercampus buses aren't running, you can use Red Car, which will take you around campus from 11pm-7am.
2. Getting to UIC
UIC spans over 244 acres and is serviced by local public transport. CTA (Chicago Transit Authority) trains and buses will take you to campus and you can use the smartphone app to find out exactly when and where they are going.
When you start at UIC, you'll be invited to attend a Commuter Connection Day to help you ease into life at the university, meet other students, and hear all about the transport options available to you.
Here are some helpful tips on getting around the city of Chicago.
3. Biking
Recognized as bike-friendly by the League of American Bicyclists, the campus is easy to navigate on a bicycle. If you don't own a bicycle, you can join Divvy, Chicago's bike sharing system of over 4,000 bikes in 470 locations. You can join as a member for a year or get a 24-hour pass and pick up a bike at one of the stations dotted around the city or on campus.
Food at UIC
1. UIC Eats
With Greektown and Little Italy lying very close to campus, there is no lack of choice when it comes to finding nice places to eat. In Greektown, you can get a lunch special with a large slice of pizza and soda for $4 at Primos Chicago Pizza Pasta or grab a generous portion of noodles at Chinese Yum Yum. Davanti Enoteci is a nice little Italian restaurant, serving small plates of authentic Italian dishes.
2. On-campus dining
UIC has a wide variety of restaurants and cafés serving students on campus. To save money, you can purchase one of their meal plans if you're going to spend a lot of time eating on campus. As well as all-you-care-to-eat dining locations, there is a Wendy's, Baskin Robbins, Port Center Café, Subway, and plenty more places you'll recognize.
3. Grocery shopping
For reasonably priced groceries and all the basic necessities, take the shuttle bus to Jewel on Roosevelt and Ashland or call into the Dominick's across the road for a wider selection and more upmarket options.  For organic food, try the Whole Foods Market in University Village.
Remember, it's cheaper to shop for fresh food and cook your meals from scratch, and it will be healthier too!
Good luck, and enjoy your time as a student at the University of Illinois at Chicago!
Free International Student Guide
If you're heading to the US to study, don't forget to download our free guide for international students!
Download our International Student Guide to
Studying in USA
Sprintax can make things much easier for you. Check out my blog posts and feel free to ask me any questions.