Tips for International Students at Yale University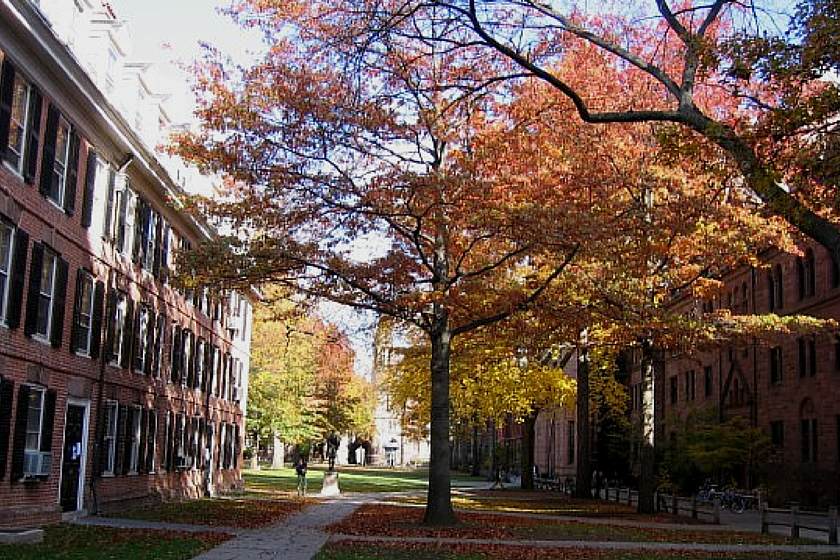 Yale University in New Haven, Connecticut, has graduated five US presidents, 52 Nobel Laureates, and hundreds of high-level US diplomats, including former US Secretary of State Hilary Clinton and current Secretary of State, John Kerry. Yale is a private Ivy-League University and the third oldest institute of higher learning in the US.
It was founded in 1701 in Saybrook Colony and renamed Yale College in 1718 in recognition of a gift from Elihu Yale, Governor of the British East India Company at the time.  It has over 12 constituent schools, including the original undergraduate college, the Yale Graduate School of Arts and Sciences, and ten professional schools.
Transportation options
1. Train
New Haven is a small city of 130,000 residents two and a half hours south of Boston and is easily accessible by train, bus, car, and airplane. Union Station is minutes from Yale and the regular Metro-North will take you between New York and New Haven. Amtrak runs from New Haven to Vermont, Providence, and Boston.  Search Metro-North and Amtrak for information on ticket prices and discount passes.
2. Bus
You can hop on a Greyhound or Peter Pan bus out of New Haven at Union Station. Yale also provides shuttle transport for students all year round, except for holidays, and the service is free.  Buses are reasonably priced and offer student discounts. Search for routes here.
3. Bike
If you want to use a bicycle, there are several places where you'll find shared bicycles on campus. The university has partnered with Zagster, a bike-sharing scheme, so you don't have to worry about buying a bike when you get there.
It's easy to navigate Yale on a bike and you won't have to worry about parking. A Bike-to-Work-Breakfast event takes place every third Friday of the month where cyclists get the chance to meet, have coffee, and enjoy breakfast with other cyclists. Find out more here.
Accommodation
1. Campus
Most freshmen live at Yale's Old Campus, which is made up of 14 buildings, including eight dormitories, two chapels, and a four-acre courtyard. Before you start your freshman year, you'll be assigned to one of Yale's twelve residential colleges and be affiliated with this college for the next four years. Once you become a sophomore, you'll be moved into your designated college.
2. New Haven
Home to Yale University for nearly three centuries, New Haven is a busy center for business and arts and a great place to live and work. Freshmen mainly live on campus, but many graduates choose to live in the city.
You can start your search for apartments in New Haven by looking at Yale University's affiliated website listings on Elm Campus Partners and OffCampusLiving. Both websites have authenticated student reviews.
3. Hotels
There are a number of hotels close to campus where you can stay and many are listed on Yale's website here. You are free to drop into the Yale Visitor Center to find out more information about Yale and get a guided tour of the campus.
Foreign language and private tours are also available by appointment. If you're not sure about Yale, but are considering applying, this is a great way to get to know the university!
Food
1. Campus dining
Yale serves a wide selection of food on campus at its various dining halls for students and the style is all-you-care-to-eat. As an undergraduate, you can choose from a number of meal plans to suit your budget. You can use these meal plans at a variety of restaurants and café across campus. For more information, check out their website here.
2. New Haven
New Haven offers plenty of choice when it comes to cafés and restaurants, and there are a number of places that won't hurt your pocket. For example, Moe's on Whitney will give you free chips and salsa with any order, and you can grab a burrito at La Conchita for as little as $5.
For a cheap bagel or muffin for breakfast, try the Book Trader Café before 10 am or Patricia's restaurant on Whalley Ave. China King do a great lunch special, and if you like sushi, then Mizu offers an all you can eat special you can share with your friends for $20.
3. Grocery shopping
You'll find all the basics, such as meat, fresh veggies, and canned food at Stop & Shop on Whalley Ave, within walking distance of the campus. Elm City Market co-op on Chapel Street will save you a lot of money in the long run, especially if you plan on cooking a lot of your own meals throughout the year.
For relatively cheap prices and pre-prepared meals, go to Trader Joe's on Boston Post Rd. Whole Foods Market on the same road also has a variety of retail stores, serving fresh, healthy produce.
Good luck! And don't forget to download our free guide for international students in the US below.
Download our International Student Guide to
Studying in USA
Sprintax can make things much easier for you. Check out my blog posts and feel free to ask me any questions.