Tips for International Students: Columbia University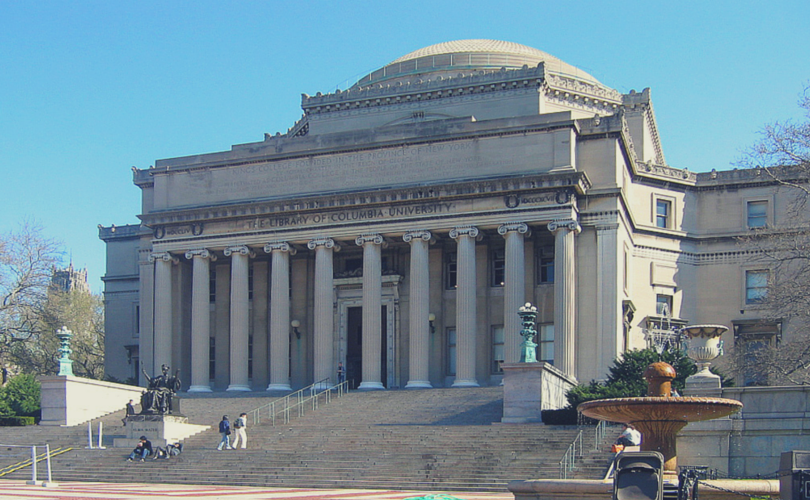 (Photo by AlMare)
The oldest institution of higher learning in New York State, Columbia University was originally founded in 1754 as King's College by Royal Charter of George II. Eventually renamed Columbia College, it was renamed again to Columbia University in 1896. It counts the Five Founding Fathers of the US, three US presidents, and nine Supreme Court Justices among its alumni. Columbia also has a large underground tunnel system that's over a century old, with the oldest portions predating the current campus.
The university administers the Pulitzer Prize annually, an award for achievements in journalism, literature, and musical composition. As well as 20 schools and affiliations with many institutes of higher learning, the university also has several global centers dotted around the world in cities such as Amman, Beijing, and Istanbul.
Getting Around:
1. Inter-campus shuttle
The best way to get around campus during term time is to use the Intercampus Shuttle buses running Monday to Friday. They will take you around all the main centers and departments on campus and are fully accessible. There's also a handy app that lets you track the shuttle in real-time so you know when it's approaching your stop.
2. Public Transport
Columbia University covers 32 acres in Morningside Heights in the borough of Manhattan in New York and is served by many buses and subway trains all over the city and in and out of Le Guardia and JFK Airports. Luckily, Columbia University has partnered with NJ TRANSIT to offer full-time students a discount of 25% off the price of a bus, rail, or light rail monthly pass.
3. By car
If you don't want to cycle, take public transport, or you just want a day trip, then one option is to use a car. You can easily rent or share a car using Zipcar, a university-approved car rental service where you simply become a member, reserve your car, and drive off from one of the locations around campus. If you have a full driver's license in your home country, then you'll be able to use it to drive in the US legally. You can also apply for a New York State license but your authorized stay must be a total duration of one year, with at least 6 months before the expiry date.
Accommodation:
1. Student housing
Most first-year students live on campus unless you have specific permission to live with a parent or a guardian. Columbia has apartment buildings and traditional residence halls in the neighborhoods of South Lawn, East Campus, West Campus, and The Block. As a first-year student you're guaranteed housing for up to four years, and to get the guarantee, you must complete a housing application form. You might not always get your first choice, as it's often determined by random number selection and seniority, but you'll be allocated campus housing in some form!
2. Off-campus housing
Off-campus housing is a more feasible choice for sophomores and graduates, Columbia's Off-Campus Housing Assistance Office (OCHA) will help you find suitable rental accommodation in the area. You can search the OCHA's Housing Registry database for rooms and apartments and for potential roommates. The office will also help you with advice and tips on your search and familiarize you with New York's rental process which can be confusing for newcomers.
3. Homestay
A nice, clean, safe option is to stay in a homestay with a family nearby, which may work out even cheaper than renting. You'll get to practice your English, meet locals, and learn all the customs of an American family.  You'll also get a set number of meals included each day and access to laundry facilities. You'll get a safe, comfortable private room, and the experience will greatly benefit your language skills. Try searching sarahomestay.com, which has a wide range of available homestays and shared lodgings.
How to find food on a budget:
1. Campus dining
If you live on campus, depending on your type of accommodation, you'll have a set number of meals included in the fee. Otherwise you'll have the option to purchase a meal plan card for the year which will entitle you to food in the university's dining facilities. As a first-year student, you'll be given the option of certain dining plans to choose from. Getting a meal card will save you time and hassle, and a lot of effort if you're not a fan of cooking!
2. Dining out
A whole melting pot of dining options awaits you in the vicinity of Columbia University. There are tonnes of great places to eat nearby so you'll have plenty of choice depending on your tastes. Tom's Restaurant, famous for the outside shots on the hit show Seinfeld, is popular among students. If you're into Asian food then you should try Thai Market, where Bangkok meets Morningside heights.
For healthy veggie or gluten-free options,  go to Maoz, a Dutch falafel bar originating in Amsterdam. As well as plenty of restaurants and diners, there are a number of food markets in the area such as The Columbia Thursday Greenmarket on Thursdays and Sundays on Broadway west of the campus.
3. Shopping
If you want to shop for tasty, convenient foods then you should pop down to West Side Market where you'll find everything from microwaveable meals to gourmet specialty items. The Apple Tree Supermarket store on Amsterdam Ave has a 24-hour deli but is slightly more expensive than the Met Foodmarket nearby.
Cooking meals from scratch will be much cheaper and by sticking to simple, fresh ingredients, you'll feel healthier than if you consistently dined on processed foods.
Heading to the US?
Download our free guide for International Students in the US below.
Download our International Student Guide to
Studying in USA
Sprintax can make things much easier for you. Check out my blog posts and feel free to ask me any questions.