Dreaming of a work and travel trip to the US? Here's how to turn your dream into a reality!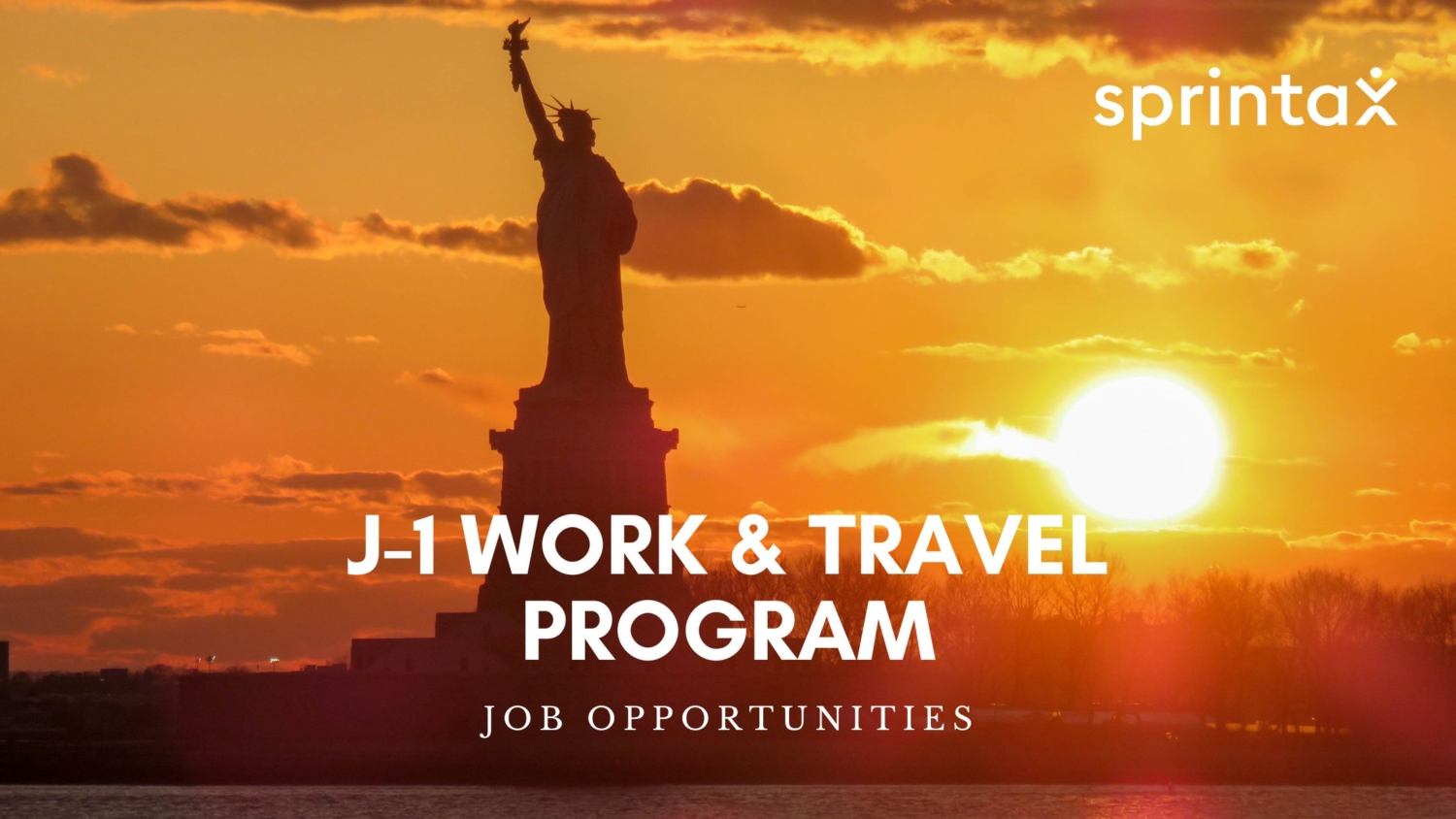 (Last updated: 13 Jan 2023)
College semester coming to an end? Striving to find something new? You may be considering venturing on a J-1 US work and travel experience of a lifetime. And you're not alone.
In fact 300,000 foreign visitors travel to the US each year to work and experience 'the American dream'.
The work and travel program enables university and college students from around the world to spend an amazing summer working and travelling in the US. Participants can gather new knowledge, gain work experience and make new friends.
But there's one downside. For many people, the J-1 visa application process is extremely daunting. Where do you begin? And what if you can't find a job in the US?
Fortunately there are a number of organisations out there that can manage your J-1 visa application for you. Some of them will even guarantee to find you work!
Let's take a look at some of the best options below.
Jooble
Every nonresident in the US should kick-start their job search by checking out Jooble.
Why?
Simple! Jooble does the hard work for you!
They provide an international job search website which is used by millions of people.
Every day, Jooble aggregates vacancies with sources including corporate websites, social networks, classifieds, and other resources. In other words, you can find all of the job opportunities you are looking for right here!
There are employment listings from a range of industries right across the US. Plus, if you would prefer to work from home, you can find remote positions too.
J-1 Work and Travel applications

1. Viking Cultural Exchange
Viking have been organizing US Work and Travel programs for 13 years. Their package includes a job offer, issuance of the DS-2019 form, issuance of a round trip airplane ticket to the USA and back to home country, as well as preparation of all required documents for your program. Plus you'll get free medical insurance to cover your travel period in the US. And all of this is delivered at an 'affordable price'. 
2. Cultural Homestay International
Cultural Homestay International (CHI) offer overseas university students a unique opportunity to intimately experience life and culture in the US.
For almost 40 years, more than 300,000 students and young adults have visited the US to participate in CHI's educational and cultural programs, including:
Academic Year High School exchange
Short-term Group Homestay
Au Pair child-care
Internship training
Work & Travel
Camp Counsellor experience 
3. Global Current
Global Current has been a leader in international exchange and professional training for over 50 years. They provide 48 hour processing and 'unrivaled personal attention' to each and every J-1 applicant.
4. Cultural Exchange Network
Cultural Exchange Network (CENET) is a non-profit organization dedicated to cultural and international exchange.
CENET administers the below programs for students looking for a US work and travel experience:
the International Trainee
International Intern
S.-Mexico Intern
Summer Work Travel Programs
5. CICD Global Opportunities
Since 1997, CICD has provided more than a thousand students with opportunities to successfully work and travel the US. CICD offers excellent personal service, program monitoring and support.
6. InterExchange
The InterExchange team of experts have helped over 225,000 explorers travel the world for the past 50 years. They administer five J-1 visa exchange visitor Programs:
Au Pair
Camp Counsellor
Intern
Summer Work Travel
Trainee
7. Working Adventures Worldwide
If you're looking for an unforgettable US experience, Working Adventures Worldwide will help you with all the planning and preparation so that you can get more fun and less stress out of your overseas experience!
Their parent company BUNAC (headquartered in Britain) has been in the youth travel industry for over 40 years, specializing in work and volunteer abroad programs.
Summer Camp jobs

1. USA Summer Camp
Every year, children across America head to Summer Camp for a summer in the outdoors, experiencing new things and building up their skills. Camps employ international staff to help run the camp, working as Camp Counsellors and Camp Leaders. This is a great opportunity to earn money over the summer while doing something that you love!
2. Working Adventures Worldwide
The best part of this company's (based in New Zealand) program offering is that they will guarantee you a camp counselor job or your money back!
Jobs can be found in all kinds of camp counselor roles including water sports, outdoor activities, land sports, horse riding, lifeguarding, performing arts, arts & crafts.
They offer:
Low fees (you can save up to $200)
High salaries
A personal service
3. Camp America (NZ)
Based in New Zealand, Camp America have been tried and tested by thousands of Kiwis. With Camp America you're guaranteed a placement or a refund!
4. Camp America (OZ)
This company will be for you if you're hoping to travel to the US from Australia to work in summer camp.
5. CampStaffUSA
Attracting candidates from all around the world, CampStaffUSA is a one of a kind staffing site that focuses on summer camp employment.  The company was founded by camp directors looking for an all-in-one solution for hiring quality summer camp staff.
6. Camp Leaders
Camp Leaders are the only specialist summer camp company based in Ireland. They provide summer camp placements at over 500 summer camps throughout America. They offer high wages and a truly unforgettable J-1 summer experience.
7. American Camp Association
If you choose the American Camp Association for your US camp placement you'll have an opportunity to pick from 3,656 Camps and 12,184 Programs. The American Camp Association is a community of camp professionals who, for over 100 years, have joined together to share knowledge and experience and to ensure the quality of camp programs.
Internships

1. USEH International
USEH provide high quality paid international internship/training to young professionals from all around the world, specializing in Tourism and Hotel management, business administration, finance, sales & marketing and IT.
2. Intrax
Intrax Global Internships offers J-1 visa sponsorship for Interns and Trainees in the following occupational categories:
Arts and Culture
Hospitality and Tourism
Information Media and Communications
Management, Business, Commerce and Finance
Public Administration and Law
The Sciences, Engineering, Architecture, Mathematics and Industrial Occupations
Since 1980, more than 350,000 individuals (from over 100 countries) have participated in Intrax programs.
3. International Interns USA
For over 10 years, IIUSA has helped international students and graduates to find internships in the US. They will help you to find a great internship, get a J-1 visa and find a company for your OPT training.
4. Cultural Vistas
Founded in 1963, Cultural Vistas is a non-profit exchange organization which promotes global understanding and collaboration among individuals and institutions. Annually, more than 4,500 individuals and over 900 US businesses, companies, and NGOs turn to Cultural Vistas as their trusted solution for J-1 Visa sponsorship for internship and training programs.
5. Career Internship Abroad
Founded in 2008, Career Internship Abroad (CIA) is a world-class educational consultancy firm that creates global internship opportunities for students, fresh graduates, and young professionals.
CIA has been recognized by different international regulatory agencies and is affiliated with different educational organizations to ensure that all the participants are protected and secured.
6. Council of International Programs USA
CIPUSA offer an array of exchange programs ranging from two weeks to 18 months in duration and spanning a variety of professional fields. Their J-1 Training Visa program is open to both applicants who already have a training program lined up in the US and to those who are still looking for opportunities.
Medical roles

1. J1 Waiver Jobs
This company provides J-1 Visa Waiver Jobs For Physicians, with an emphasis on roles in Montana. With this waiver, you will not be required to return to your home country after the completion of your J-1 exchange visitor program. This is a very desirable factor for many medical doctors that come to the US on a J-1 visa.
2. 3RNet
This non-profit organization helps to connect health professionals searching for jobs in rural or 'underserved areas' with health care facilities. 3RNet offer roles in every state!
Hospitality positions

1. Hospitality Placements USA
This company specializes in the placement of qualified international hospitality graduates and young professionals into major brand hotels and resorts in the US. They match qualified interns and trainees into paid training positions to receive on the job training, build career experience and improve professional skills.
2. Placement International
Placement International has over 10 years of experience in offering positions for highly educated students and young professionals to do paid internships and management training programs in the most luxurious hotels and restaurants in the US. Looking to work in a top hotel brands while on your J-1 program? Step this way!
Agricultural work

Communicating For Agriculture Exchange Programs
Looking to experience farm life stateside?
CAEP brings young adults together from all over the world to share and learn ideas, beliefs, and agricultural practices through international paid agriculture exchange programs.
And finally
Tokio Marine HCC
When you're in the US on a J-1 visa you'll no doubt be hoping to earn some money to supplement your trip. However as the saying goes – 'your health is your wealth'! In the US, you'll have access to quality medical care for any unexpected illnesses or injuries you may encounter during your trip. But this care can be extremely costly without insurance coverage. Tokio Marine HCC can provide coverage in the event of an accident or emergency as you travel within the US. You'll be back on your feet in no time!
Subscribe to the Sprintax Blog!
US tax can be confusing. Especially for nonresidents!
That's why, if you're an International Student or J-1 participant in the US, or you work in a University International Student Office, you should subscribe to the Sprintax blog.
You'll find tons of useful content for nonresidents. We cover tax, student life, acclimatizing to the US and much more.
So what are you waiting for? Sign up today and never miss a thing!
Sprintax can make things much easier for you. Check out my blog posts and feel free to ask me any questions.