New York University – Tips for International Students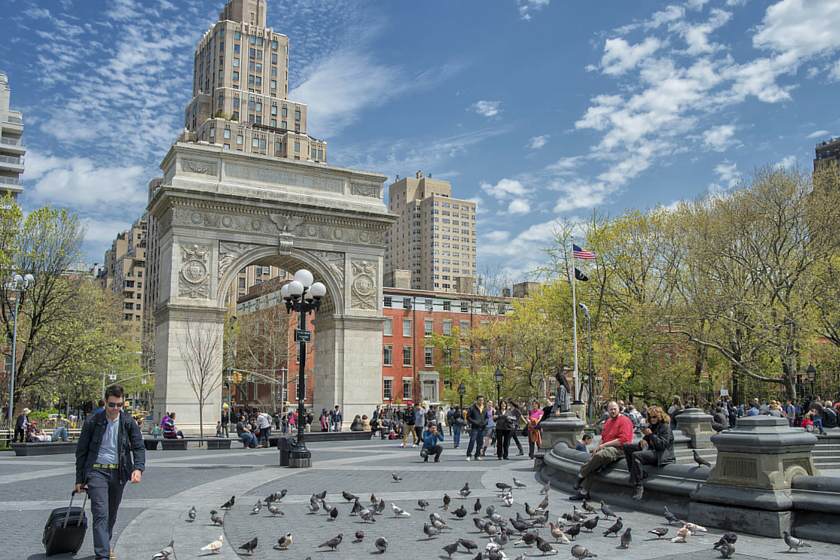 Founded in 1831, the central part of New York University (NYU) is its Washington Square campus in the heart of Greenwich Village. It's one of the highest searched for universities online across the world and hugely popular with international students.
It counts 36 Nobel Prizewinners among its alumni and is organized into more than 20 schools, colleges, and institutions. Whether you want to live on campus or within the surrounding suburbs of the university, there are plenty of choices for accommodation, transport, and cheap places to eat.
Accommodation tips
1. On-campus
Living on campus is one of the best ways to integrate into all facets of student life, with plenty of opportunities to join organizations, participate in workshops, and enjoy all the social aspects of student life. As well as access to all the amenities campus life has to offer, you can avail of a meal plan so you don't have to worry about feeding yourself.
The Office of Residential Life and Housing Services is in charge of the administration of NYU's 23 residence halls, which are home to approximately 11,000 students during the academic year and summer session. To find out more about living on campus, visit their web page on NYU's website.
2. Off-campus
Living off-campus offers a wider choice of accommodation and may help you save money if you share with roommates. The NYU Student Resource Centre will help you search for accommodation and will give you access to the Housing Registry and provide you with tips on safety, travel, and legal resources.
Looking for an apartment in New York City can take quite a bit of searching, so if you're going for this option, give yourself plenty of time. You may also need to rent or purchase furniture for your new apartment, so keep this in mind when you're budgeting for off-campus accommodation.
3. Homestay
A homestay will give you the chance to immerse yourself in US culture as you live with an American family. The family will help you adjust to life in New York, cook your meals, and give you a comfortable and quiet place to sleep. It's also a great way to improve your English and meet people as soon as you arrive.
This also tends to be an affordable option as the cost typically includes laundry facilities, utilities, and a guaranteed number of meals per day. You can search homestay.com and newyorkhomestay.com for suitable options.
Transport
1. University transportation
New York University has its own transit system to take you around campus with buses running between Washington Square campus and NYU residence halls.
You'll find a map and times here.
2. Public transport
New York University's campus is effectively New York City, so you won't be stuck for transport options! It's also pretty cheap to get around and the local fare for a bus or metro is about $2.50. You can access information on subway routes and times at mta.info.
3. Cycle
Biking your way around campus is a sustainable way to get around and it's easy to find a bike with plenty of bike rentals and shops in and around campus. The university also provides bike racks that are indoor and outdoor to keep your bicycle secure.
Pay a visit to the NYU Bike Share which offers free rentals to students who go to their safety training workshops. Alternatively, you can buy a bicycle at the Bike Shop which sells refurbished bikes at discounted prices.
Finding food
1. On-campus dining
You'll be spoilt for choice when it comes to dining at New York University's campus at Washington Square and Brooklyn. You can also purchase flexible meal plans to suit your dietary needs and budget at 15 locations at the university. You can download their menu and view plans here.
2. Food on a budget
For some truly cheap eats near New York University, try the $2.50 falafel at Mamoun's on Washington Street or sample some tasty Vietnamese cuisine at Saigon Shack on MacDougal Street. Greenwich Village nearby has lots of restaurants and cafés so you won't struggle to find a bargain at mealtimes.
3. Shopping for food
Family-owned D'Agostino's supermarket is close to campus and has a loyalty savings scheme that lets you earn points towards coupons and discounts every time you shop and use your reward card.
The famous Union Square Greenmarket opens every Monday to Saturday throughout the year with around 140 farmers and vendors selling fresh produce.
For more grocery shopping and organic options you can always go to Trader Joe's on 14th street!
Enjoy your stay as an international student in the US and good luck!
Free International Student Guide
If you're heading to the US to study, don't forget to download our free guide for international students!
Download our International Student Guide to
Studying in USA
Sprintax can make things much easier for you. Check out my blog posts and feel free to ask me any questions.