Made an error on your tax return? Don't worry, fixing it is not as difficult as you might think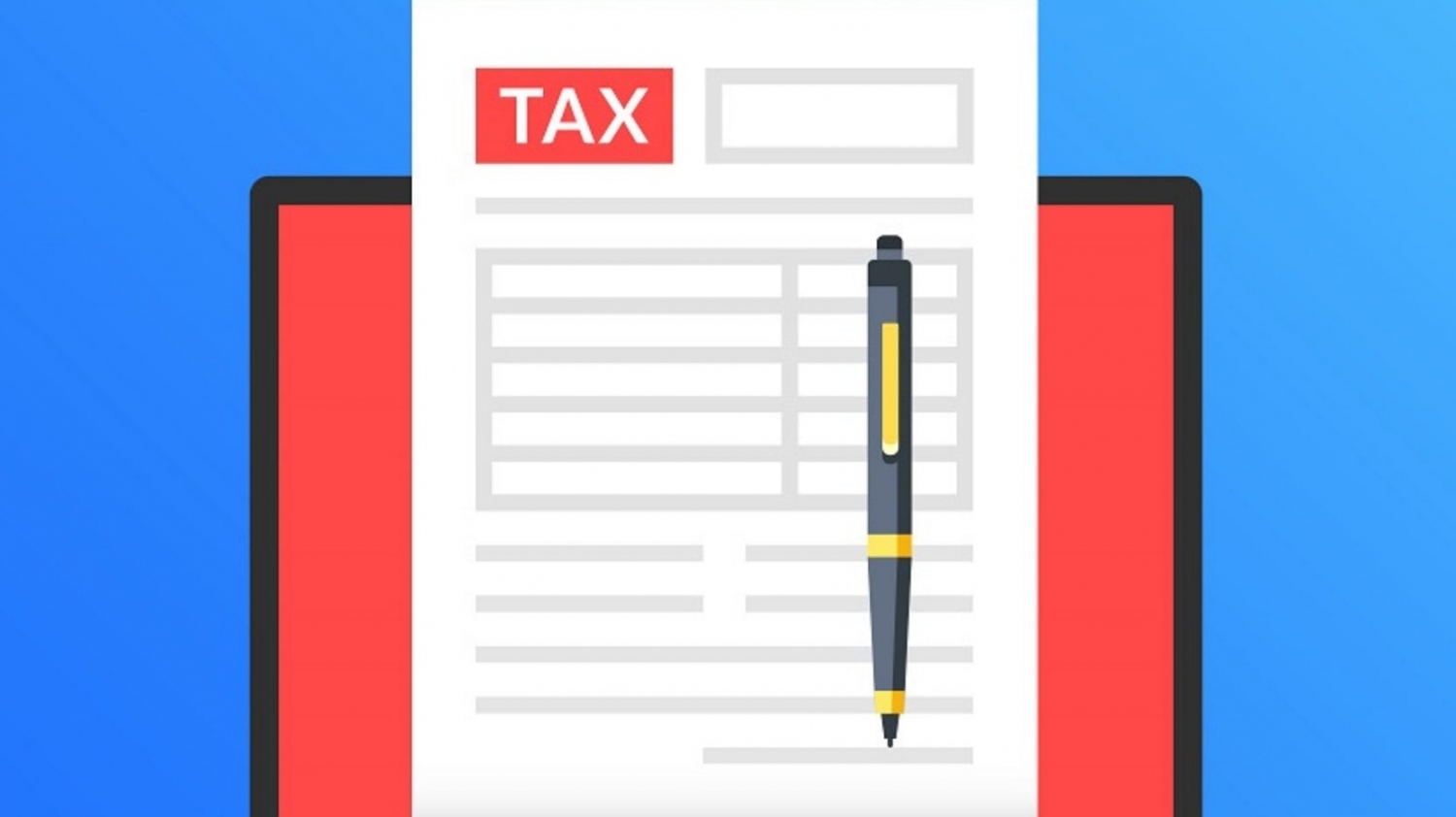 US tax can be tricky – especially if you're a nonresident who is not familiar with the American tax system.
And it's pretty easy to make a mistake on your tax return. In fact, there are a plethora of different reasons why a tax return can be viewed as 'incorrect' or 'incomplete' in the eyes of the IRS – from forgetting to sign a form to misreporting income or incorrectly calculating a deduction.
While making a mistake on your return is not necessarily a big deal, it is important that you rectify the situation by filing an amended tax return, where appropriate.

With Sprintax, you can now prepare amended tax returns for the 2017 and 2018 tax years easily online!
In this blog we'll cover:
When you should amend your tax return
When's there's no need to
And how you can easily file an amended tax return
Let's get started.
When not to amend your tax return
Firstly, it's important to note that there are some instances where it is not necessary to amend your tax return.
For example, if you make a math error on your return, the IRS will usually correct it themselves without the need for you to file further paperwork.
Plus, if you forgot to include a particular form with your return, the IRS will write to you to request the missing item so that they can finish processing your tax return.
In other words, when you receive a notice about an error, there will usually be other ways to correct errors besides an amended tax return.
When you should file an amended tax return
At this point it's important to mention that, if you file an incorrect tax return, you should not file another original Form 1040NR tax return. This will only cause confusion and further problems for you.
Instead, you should file an amended tax return form.
While not every mistake on a tax return requires an amendment, you should amend your tax return if you need to:
Correct your income and tax figures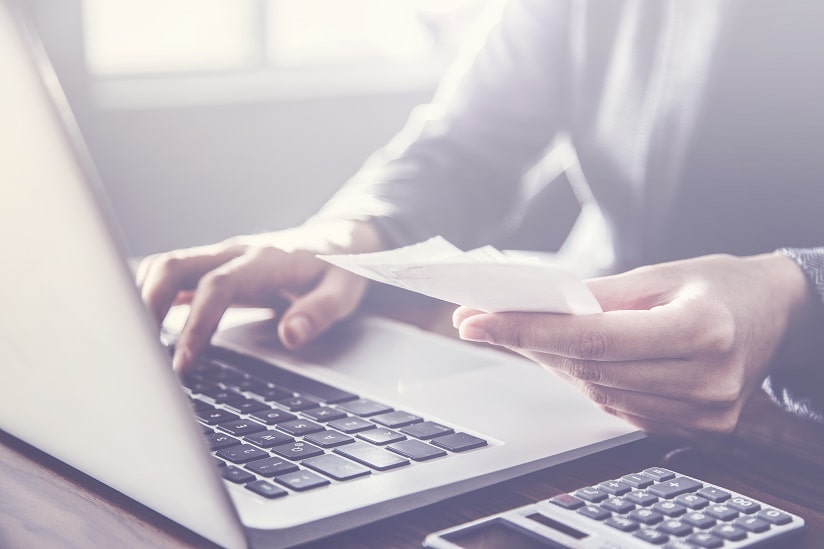 If you didn't include all your payment documents when preparing your return or if you receive additional tax documents for the tax year, (such as if a Form W-2 arrives after the tax deadline), you need to file an amended tax return to report the additional income and tax.
Claim all of the allowable tax deductions or tax credits
If you did not claim tax deductions or credits that you were entitled to, you should amend your tax return in order to avail of them.
Correct your filing status
For example, if your filed as a single individual but actually got married on the last day of the tax year, you will need to amend your return by filing your taxes under the appropriate status – married filing jointly or married filing separately (note: nonresidents can only file as 'married filing separately').
Correct the number of dependents claimed for on your return
An amended return will be required if you want to claim additional dependents, or you have claimed for ineligible dependents.
The general IRS rule states that a nonresident alien, whether single or married, may claim only one personal exemption, as long as they are not claimed as a dependent on any other US tax return.
There are some exceptions to the general rule which allow specific groups of taxpayers to claim dependent exemptions for their family members:
Residents of Canada or Mexico
Residents of the Republic of Korea
Residents of India
You can check out if you qualify to claim an additional exemption for your dependent here.
Need a hand filing your amended tax return? Contact Sprintax today!
How to Amend a Tax Return That You Filed
You should file a Form 1040X in order to amend the federal income tax return that you filed previously.
The Form 1040X is two pages long and you are only required to include new or updated information. You will also find a space where you can write an explanation as to why you are amending your return.
Once you complete the form, you'll have to mail it to the IRS along with all of the required supporting documents. Amended returns are only filed on paper. The normal processing time for a Form 1040X, is between 8 and 12 weeks from the time the IRS receives your tax return.
If you are amending for more than one tax year, you will need file Form 1040X for each tax year separately.
Many people find the prospect of dealing with the IRS and amending their tax return to be quite daunting. But if you find US tax to be confusing, and you'd like a hand preparing your amended tax return, Sprintax can help you!
By creating a Sprintax account, you can easily prepare amended tax returns for the 2017 and 2018 tax years online.
Plus, if you've got any questions about US tax, our team are on hand 24/7 to help you.
Here's what our system looks like!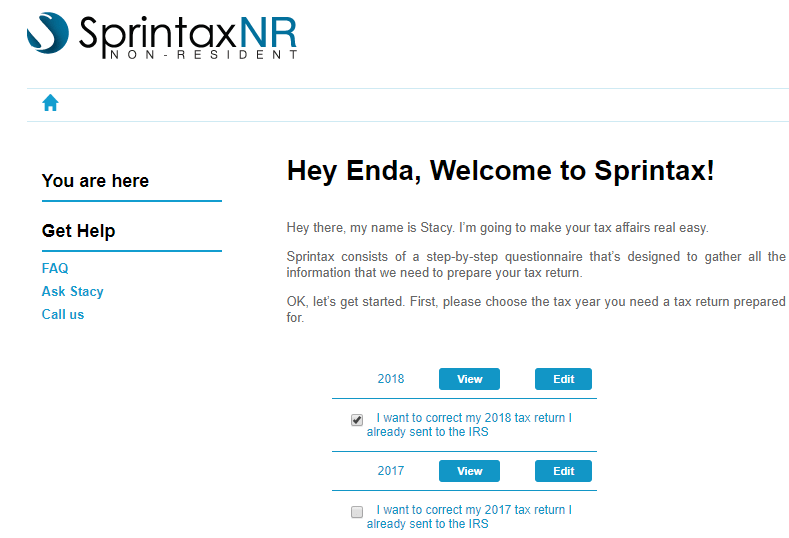 Amending tax returns and your tax refund
If you are filing an amended tax return in order to claim an additional refund, you'll have to wait until you have received your original tax refund before filing your Form 1040X.
In order to receive an extra tax refund, you must generally file your amended tax return within three years (or within two years after the date you paid the tax – whichever is later).
If your amended return shows you owe more tax than you reported on your original return, you'll likely owe additional interest and penalties too. This is why you should file your amended tax return and pay the liability as soon as possible in order to minimise any penalties.
In other words, the sooner you correct the error, the less interest you'll pay!
Subscribe to the Sprintax Blog!
US tax can be confusing. Especially for nonresidents!
That's why, if you're an International Student or J-1 participant in the US, or you work in a University International Student Office, you should subscribe to the Sprintax blog.
You'll find tons of useful content for nonresidents. We cover tax, student life, acclimatizing to the US and much more.
So what are you waiting for? Sign up today and never miss a thing!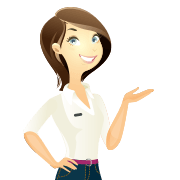 Hey I'm Stacy! I'm dealing with US taxes and can't wait to help you prepare your tax return! I've been working with taxes for like forever, so you can totally trust my expertise. Sprintax can make things much easier for you. Check out my blog posts and feel free to ask me any questions.