Sprintax wins Interactive Media Award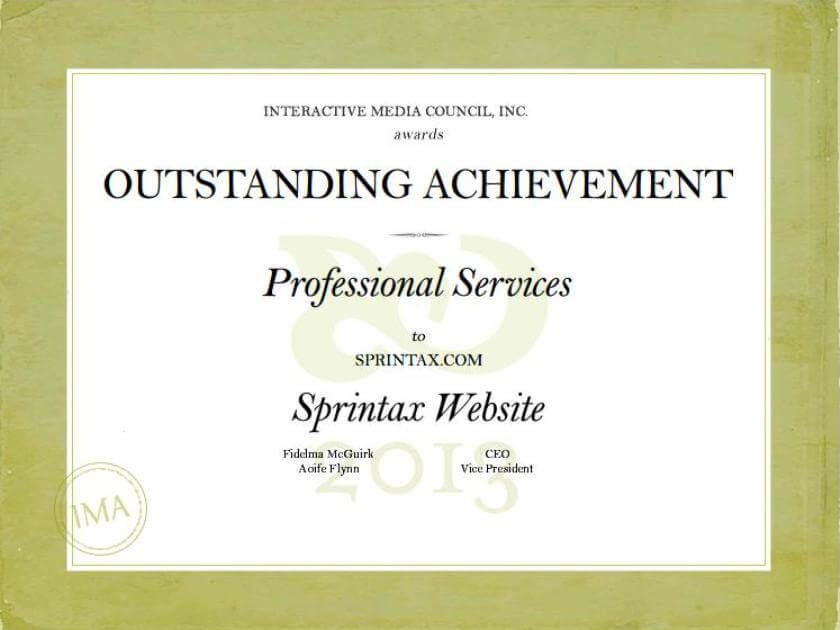 Sprintax wins award for an outstanding achievement
We're delighted to announce that the Sprintax website won an Outstanding Achievement Award in the Interactive Media Awards!
The website was judged on five points – design, content, functionality, usability and standards compliance. Sprintax performed outstandingly in each of these areas, receiving the Outstanding Achievement Award for its combined score from each area.
At Sprintax, our mission is to make sure that non–resident international students and scholars in the US receive the best tax filing service possible and an important part of this is ensuring that our website is easy for our customers to navigate, as well as being enjoyable to use. Recently, we have made Sprintax even better and easier to use for our customers by making a number of functional changes. Receiving this award has validated that Sprintax is moving in the right direction, constantly growing and evolving to meet the needs of our customers.
Thank you to everyone who was on the Interactive Media Awards judging panel. We're thrilled to have all our hard work recognised through receiving this award, and more importantly, we're glad we're able to provide all our customers with a fun and functional website that they enjoy using.
Of course… if you can think of any ways we could improve further, leave a comment below, or email us!

Hey I'm Stacy! I'm dealing with US taxes and can't wait to help you prepare your tax return! I've been working with taxes for like forever, so you can totally trust my expertise. Sprintax can make things much easier for you. Check out my blog posts and feel free to ask me any questions.