How to throw the best Halloween party ever
Halloween is coming, the shops are full of costumes and there's a creepy atmosphere around.
At this time of year, if you listen carefully you might hear a Halloween spirit whispering 'Spooky spook come out to play, on the thirty-first, Halloween day.'
OK, maybe you feel a bit too old for Halloween songs or trick-or-treating around the neighborhood but you are never too old to party! And what you should bear in mind is that on-campus Halloween celebrations can be funnier and more exciting than any other. Take it from us we know. At Sprintax we're a big fan of throwing parties and Halloween is an awesome excuse!
If you haven't done it already, get into the Halloween mood, gather some friends to help you with the preparations and start planning the most amazing Halloween campus party ever. Below we've put together the essentials on how to make your party great, unforgettable and 100% full of the Halloween spirit.
It's all about the decorations
One of the earliest and most popular Halloween decorations are Jack-o-Lanterns or carved pumpkins. So, what's the Halloween story behind this beloved tradition? According to ancient Celtic beliefs Jack-o-lanterns scare away the evil spirits wandering the streets on All Hallow's Eve. They look pretty cool too. We like having pumpkin carving sessions the day before the party as it helps to get in the mood for Halloween. Over the years, carved pumpkins have become a must-have decoration for any Halloween party. Of course, having some carved pumpkins is not enough to create a truly frightening "haunted-house" atmosphere. That's why you can add a pinch of creativity with some fake cobwebs and spiders, skeletons, origami bats and even hanging ghosts. The good news about Halloween decor is that even if you are on a tight party budget, you can easily make your own Halloween crafts with stuff you have in hand or if you have a small budget, discount stores normally have a great selection. Stick to an orange and black theme and you can't go wrong!
What's a party without food?
There are plenty of Halloween recipes on the internet for frightful but at the same time delicious Halloween-themed desserts. Spider cupcakes, spooky witch's finger biscuits and hot-dog mummies are easy-to make and despite their terrifying look, everyone will love them. Just because you're not treat-or-tricking, it does not mean that you should not serve the traditional Halloween candy. Of course you should – piles of candy everywhere are essential for a great party. 
Dress up for a Halloween costume contest!
What Halloween party would be complete without having all your guests in Halloween outfits?  Make it clear in the invitations that no one has an excuse to show up without a costume. The only rule that should be followed while choosing one is "Be creative". Dress up as a scary movie or fairytale character, sew your own costume or rent one. No matter what you choose – it's great fun dressing up and the scarier the costume the better.
 In order to make your party more interesting for your guests, provide a prize for the best costume. It adds a bit of fun getting people to vote for the most frightening, unique or funniest costume.
The best part of throwing your own party is that you should not be afraid to improvise and make sure you take plenty of photos. Do you have any awesome Halloween ideas? Don't forget to share them with us.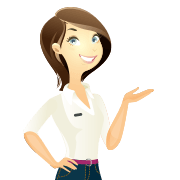 Hey I'm Stacy! I'm dealing with US taxes and can't wait to help you prepare your tax return! I've been working with taxes for like forever, so you can totally trust my expertise. Sprintax can make things much easier for you. Check out my blog posts and feel free to ask me any questions.