Christmas presents – bliss or bummer
Christmas time – time for joy and… presents
Christmas is coming so deck the halls! The most beloved holiday which brings to mind colourful, warm images of bright lights, people singing carols, decoration, treats, family gathered around the Christmas tree and of course PRESENTS.
Who doesn't love the presents? But when it comes to buying them it's a whole different story. The panic that you don't have the time to go shopping for everyone, the horrifying thought that they won't like your present and of course the money you don't have or you don't want to spend, it's all very stressful and unnecessary. Just relax and take a look of the few ideas we came up with, so you can enjoy the holiday season to the fullest.
First you need a list. Make your list and stick to it. When making your list, consider who usually buys you presents and who doesn't. It might seem mean, but you'll save a lot of money, and if someone isn't going to buy a present for you, why would you buy one for them?
Once you've made your list, create your plan of attack! By that we mean, make a plan of the shops you need to go to, the easiest route to go to them and the times they'll be least busy. Normally shops are least busy early in the morning, so beat the crowds and get in early. Who wants to be pushing through crowds during the day.
If you're on a budget, or you just want to cut down on costs, make a DIY present or buy everyone socks and candies. If you don't have enough money to buy everyone a present, just do something sweet or give them something you already have which means a lot to you and to the person you are giving the present to. Sounds a little bit cheesy, but we guarantee that they will appreciate it.
For example, you could make a nice scrap book with family photos for your grandparents or your parents. Or you can make a collage with you photos and frame it. Or you can make a movie, with clips of photos with nice sayings between them. There are a lot of options!
If you think that's a bit passé, you can try making something else like personal cups for everyone. All you need is a permanent market, a blank cup and your imagination. Write something, or if you can – draw something, let it dry for a bit and then bake the cup for 30 minutes at 350 degrees.
Once it's done, give it to your friend or family member with a box of personalized teabags. Personalised teabags you say? They're just teabags with cute messages glued to the string of the teabag. Simple.
Or you can bake cookies and put some cute messages on top of them.
This way the person, you are giving the present to, will think of you every time he/she drinks a cup of tea or take a bite from your delicious cookies.
If you still don't have a clue what to give someone, just browse the web and pick something.
Whatever you do, don't leave your shopping to the last minute, because you know what that means – crowds, too many temptations for you, and of course you may not find the thing you are looking for. We've all done it, and we all regret it.
Remember, try to think of what the person you're buying for would like, not what you would like yourself. If you listen carefully, often people will start to drop hints around this time about things they would like, so listen carefully and you might be able to hear exactly what they want.
And don't forget to enjoy this time of the year! If you get tired of the presents (but seriously, who does), just think of all the other things you love about Christmas! Happy Holidays everyone!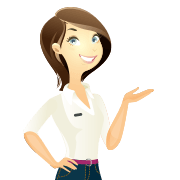 Hey I'm Stacy! I'm dealing with US taxes and can't wait to help you prepare your tax return! I've been working with taxes for like forever, so you can totally trust my expertise. Sprintax can make things much easier for you. Check out my blog posts and feel free to ask me any questions.