5 quick dorm friendly recipes
Bon appetit, international students
Let's be honest – dorm kitchens don't lend themselves to cooking Michelin Star worthy cuisine, not that anyone even has time to cook that, what with all the parties, lectures, sports, studying and society activities going on. That's why we're giving you 5 easy recipes you can cook for in 10-15 minutes, so you can spend more time doing the fun stuff you love.
For a healthy, easy to cook breakfast, we'll start with an
1) Omelette in a mug
Ingredients:
1 large egg
2 egg whites
2 tbsp shredded cheddar cheese
1 tbsp diced green bell pepper
Salt and ground black pepper to taste
Cooking spray
Cooking instructions:
Combine the egg, egg whites, cheddar cheese, bell pepper, salt, and ground pepper in a microwave-safe mug coated with non-stick spray and stir it a bit. Microwave on high for 1 minute and stir it again. Return to microwave and cook until eggs are completely set. It takes about a minute. Sprinkle cheese on top and you're done.
2) Easy cheesy burgers
Ingredients:
1 can (12 ounces) fully cooked luncheon meat, cubed
2 cups shredded cheddar cheese
½ creamy salad dressing such as ranch
4 hamburger buns, split
Cooking instructions:
Stir together the luncheon meat, cheddar cheese, and salad dressing in a bowl. Spread the filling onto the cut side of each hamburger bun, and place onto a baking sheet or a flat plate, filling-side up. Broil the open-faced sandwiches in the microwave set on grill until the tops are browned and bubbly. It takes about 5 minutes.
3) Microwave chips
Ingredients:
4 large potatoes (russet, yellow gold, white or red potatoes)
Your choice spices(granulated garlic powder, seasoning salt, cayenne pepper, dried dill weed, granulated garlic powder)
Vegetable oil, for microwave bacon tray
Cooking instructions:
If potatoes are old, peel and slice thin, less than 1/16″ in thickness (paper thin), slicing across the potato.
If the potatoes are new or good skins, don't peel them, just scrub them well, then slice them less than 1/16″ in thickness (paper thin), slicing across the potato.
Place potato slices in a bowl, sprinkle with some salt (if desired) cover with cold water and let sit for 10 minutes.
Remove potato slices in batches onto paper towelling and pat dry.
If you have a microwave baking tray, rub the tray with a vegetable oil, then place the sliced potatoes flat on the tray in a single layer.
Sprinkle with your choice of herbs or spices or just leave them plain.
Cover with a microwaveable, round heavy plastic cover.
Microwave on high (full power) for 5 to 5 1/2 minutes or until they curl slightly and are a very light brown in color.
Cooking time could vary slightly, depending on the wattage of your microwave and the thickness of the slices. The thinner the slices, the quicker they cook and the tastier they are.
You don't have to turn the sliced potatoes over and if you don't have a baking tray, use a microwave safe casserole dish.
Rub the inside of the dish with some olive oil for the first batch of potato chips.
After the first batch is done, you do not have to rub the dish again.
Continue to microwave the remainder of sliced potatoes until you have a nice snack for a movie.
And now we'll show you something for that sweet tooth of yours.
4) 5-minute chocolate cake in a mug
Ingredients:
4 tablespoons cake flour (plain flour, not self-rising)
4 tbsp sugar
2 tbsp baking cocoa
1 egg
3 tbsp milk
3 tbsp oil
3 tbsp chocolate chips (you can add more or less)
1 dash vanilla
Cooking instructions:
Add dry ingredients to a coffee mug and mix well.
Add the egg and mix thoroughly.
Pour in the milk and oil and mix well.
Add the chocolate chips and vanilla essence, mix again.
Put your mug in the microwave and cook for 3 minutes at 1000 watts.
The cake will rise over the top of the mug, but don't be alarmed!
Allow it to cool a little and you can tip onto a plate if you want.
Top it with ice cream and chow down!
5) Sweet salami
Ingredients:
1 egg
1 chocolate bar
2 pack of biscuits (your choice)
1 stick of butter
1 tea cup nuts
2 tbsp cacao
2 tbsp caster sugar
Tin foil
Cooking instructions:
First crush the biscuits and the nuts so that they are ready for later. Then put the butter and the chocolate bar in a bowl and stick in the microwave on high until they both melt.  After you get them out of the microwave stir them both and put in a bigger bowl so that you can mix everything together. It's important that you add the egg, nuts, cacao and caster sugar before the chocolate starts to cool down 'cause you'll have to mix everything very well. Leave it all for about ten minutes. When you're done with the mixture, wrap it up with a sheet of tin foil in the form of a salami stick and put it in the freezer for 1-2 hours and you're done.
Got any handy recipies of your own? Leave them in the comments below for your fellow international students to read, or let us know about them on Facebook or Twitter!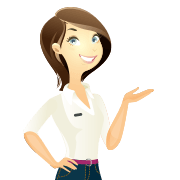 Hey I'm Stacy! I'm dealing with US taxes and can't wait to help you prepare your tax return! I've been working with taxes for like forever, so you can totally trust my expertise. Sprintax can make things much easier for you. Check out my blog posts and feel free to ask me any questions.