5 Cheap and Easy DIY Ideas to Decorate Your Dorm Room
Wondering how to decorate your dorm room? Here are some great ideas
Your dorm room is your own home away from home, so it's important to make it cozy and welcoming. Express yourself and decorate your room in a way that really reflects your personality and reminds you of your friends and family.
1. First impression is the key!
Make finding friends effortless by putting a cute welcome sign on your door. You could draw one, use a pinboard or even better, use a chalk board. As well as a sign it can also be used as a message board, so all of your friends can leave you notes when you are away. Who knows, someone might even leave you an invitation to a party.
2. Here is a great idea for creating a wall piece that will brighten up your room, making it fresher and cozier.
All you need  is some coloured cardboard (preferably the base cardboard should be thicker) and some glue. Choose the colours you like and just glue the cool designs onto the base cardboard and there you have it. There's so many possibilities! Hey, it's cheaper than buying canvas photos from Ikea!
3. Here's an idea for a cool desk or shelf ornament that brings the outside, in.
All you need is an empty fish bowl or even a regular jar, some potting soil, a few tiny plants and some rocks. First, start by placing one layer of potting soil, then plant the plants and cover the soil with little rocks or you can even use coloured marbles, if you like, and you're done. So easy, right? It's even better if you can get plants that don't need that much watering. Who said gardening was hard?
4. Who doesn't need a little organizing when it comes to stationary?
So easy – a few empty tin cans and some decorative paper and there you go, perfect for just about everything.
5. A great way to organize your schedule and your tasks
The materials you'll need for this one are a cork board, a piece of fabric, some nail head pins and glue. Place the fabric on top of the cork board and pin it carefully using the nail head pins, be careful not to leave any wrinkles in the fabric. If you are not sure that you can keep a straight line, just draw the lines with a pencil, before you start pinning. You can glue the extra fabric to the back, so it doesn't get in the way. It's a perfect way to keep track of all of your classes, tasks and appointments.
Did you like this article? Share it now!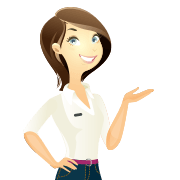 Hey I'm Stacy! I'm dealing with US taxes and can't wait to help you prepare your tax return! I've been working with taxes for like forever, so you can totally trust my expertise. Sprintax can make things much easier for you. Check out my blog posts and feel free to ask me any questions.