The 2015 Tax Year is Live!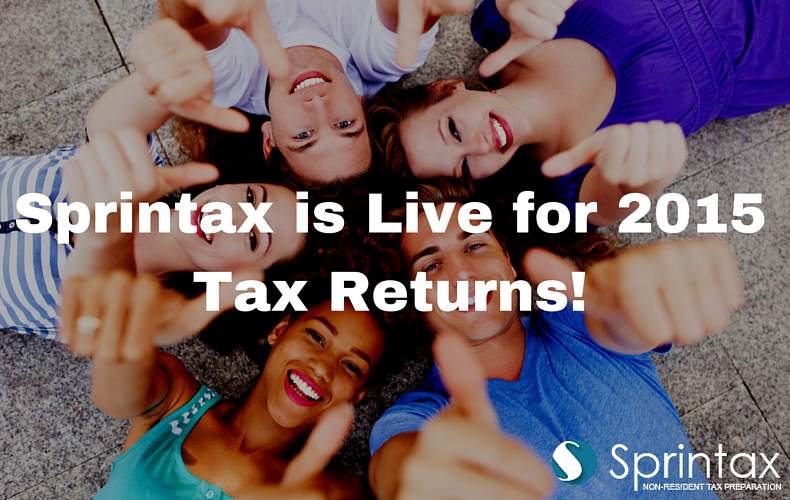 International students and scholars – you can now use Sprintax for your 2015 U.S. tax returns!
We're delighted to announce that the 2015 tax filing season is now open and you can use Sprintax to file your non-resident tax returns. Sprintax is for international students and scholars in the U.S. and will help you prepare your Federal, State, and FICA tax returns to ensure you stay fully compliant with the IRS and obligations of your visa.
When you use Sprintax, we'll check for income tax deductions, tax treaty benefits, personal allowances, and tax credits to make sure you get the highest refund possible.

How Sprintax works
To begin, you simply create an account here and answer a few simple questions. Sprintax will give you a step-by-step guide to the whole process. Once you're done, Sprintax will generate your tax return/s and all you need to do is send it to the tax office!
Once complete, we'll store your details for any future tax returns. You can also prepare tax returns for previous years using the same account.
Here's a short video demo:
Get started!
You can get started now by creating an account here. Don't miss out on your tax refund and stay compliant by using Sprintax-the sooner you file your tax return the better.
Have a question? Ask our virtual assistant Stacy  here.

Download our International Student Guide to
Studying in USA
Hey I'm Stacy! I'm dealing with US taxes and can't wait to help you prepare your tax return! I've been working with taxes for like forever, so you can totally trust my expertise. Sprintax can make things much easier for you. Check out my blog posts and feel free to ask me any questions.